Decks, Porches, Sunrooms, Patio Enclosures, & Deck Railings
Porches, sunrooms, patio enclosures, & decks add value to your southwest MO home, and provide an extension of your living space that enhances your lifestyle.
Decks, porches, sunrooms, and patio enclosures are:
A perfect foundation for outdoor living
An extension of the exterior of your home
A great place to relax and entertain
Usually much easier & faster to build than other home remodeling projects
Quality, Affordable Porch Installation & Restoration
Porches create a perfect combination of indoor and outdoor comforts, from vintage porches & Victorian porches, to farmer's porches, modern porches, and custom porches.


Looking to increase your home's curb appeal? Robert Bergeron is here to help.
A well-built porch can add equity value up to 90% of its cost, and vastly increase the functionality & recreational possibilities of your southwest Missouri home.
Are you looking to update your porch or maybe build a new one? We listen to our clients' needs and ideas and make it a reality.
Sunrooms, Patio Enclosures, & Three Season Rooms
Robert Bergeron can transform your existing deck or patio into a beautiful sunroom or three season room.
By adding a roof, screens, or windows, your custom-built deck or patio can become a sunroom that the entire family can enjoy.

Sunrooms & patio enclosures allow you to enjoy the cool spring breeze without rain spoiling the experience. Windows & screens can help protect you and your family from mosquitoes and other pesky insects.
Custom Wood, Vinyl, & Composite Decks
If you're planning on building a deck, or looking for ideas to add enjoyment to your backyard experience, Robert Bergeron is able to help.
We listen to our customers' needs and ideas, and as always, you choose the materials and finishes.
Wood Decks & Deck Railings - Cedar, Redwood, Pine, & More
Wooden decks have an elegant natural look & feel. Quality woods with attractive grains add to the overall visual impact of your home.

Many varieties of wood are traditionally used for decking, and the following choices will stand up well in all types of weather:
Cedar

is durable, has a beautiful color, and is naturally rot-resistant & insect-resistant

Redwood

has a beautiful rich color, long & straight grain, and is decay-resistant

Mahogany, Teak, Ipe, Fir, & pressure-treated Yellow Pine

are also popular choices for decking
Since wood is a natural insulator, it won't absorb the heat of the sun as much as other decking materials.
Robert Bergeron has extensive experience building rectangular decks, round decks, & octagon-shaped decks.
Vinyl Decks, Vinyl Railings, & Composite Decking Materials
A vinyl or composite deck requires less maintenance than a wooden deck. Additionally, they come in a variety of shades & textures, and will last for many years.


Advantages of composite & vinyl decking materials include:
Vinyl & composite decks don't need to be stained, treated, or painted
Composite & vinyl decking is durable and resists moisture
Vinyl & composite decks won't crack, decompose, or decay easily
Composite & vinyl decking won't splinter like wood
Additionally, Robert Bergeron can install pergolas, replacement porch railings & deck railings, and refaced porches & decks.
Whether it's a rectangular deck attached to the house, a wish for a new farmer's porch, an enclosed porch, or a new three-season room, Robert Bergeron can design and build your ideas into reality.
Call 417-737-9780 for a free consultation.
Our Southwest Missouri Service Area
Robert Bergeron's service area is bordered between Joplin and Springfield MO to the north, and extends southward to the Arkansas state line.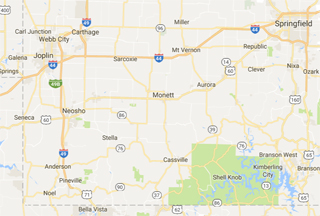 Missouri: Joplin, Webb City, Carthage, Mt. Vernon, Springfield, Republic, Nixa, Billings, Marionville, Aurora, Verona, Monett, Pierce City, Granby, Diamond, Neosho, Seneca, Goodman, Anderson, Washburn, Purdy, Crane, Galena, Cassville, Shell Knob, Eagle Rock, Reed Springs, Branson West, Branson
Arkansas: Pea Ridge, Bella Vista
If you have any questions, call 417-737-9780 and we'll be happy to assist!
Contact Us
Local Phone:
417-737-9780
Email:
Home Office:
Purdy, MO
Request A Quote
Please complete & submit form.
We'll contact you promptly!